Airflow: up to 32 m3/s
Pressures up to: 1040 Pa
Available fire resistance class: Ff300 (300°C) or F400 (400°C) for 120 minutes
CE-marked hatch protecting HT-fan inside the casing
2 linear motors to open the hatch
Casing : 4 size options available
33 Fan and Motor configuration options available
IE2 efficiency grade motors installed, IE3 are available on request
The SMHA HATCH product is a mechanical smoke exhaust unit, designed to be roof mounted. It combines a smoke (fire rated) hatch casing, within which a smoke extract fan (also fire rated) has been fitted. The unit is fully assembled as one unit, so it is delivered ready for roof mounting, provided with all the required electrical components and associated wiring, in line with the available options which can be defined at the point of selection.
Our SMHA HATCH product has two JMHT fan temperature variants available: Ff300 (300°C) or F400 (400°C), both capable of extracting hot smoke for a duration of 120 minutes, as tested and certified in accordance with EN 12101-3:2015. These product variants are designed for a smoke exhaust duty only.
The hatch or lid fitted to the top our SMHA unit has been tested to open under a snow load condition of SL 500 (tested in accordance with EN 12101-2). The smoke exhaust direction is upwards as standard.
Want to learn how to select this product on our Fan Selector?
Watch our short 'How To Guide' video. Click here >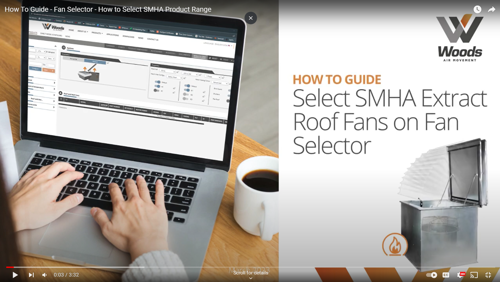 Product Selection